Pegatina película protectora en la pantalla y la carcasa
This page is translated by robot. You may
contact us
if you have any questions on this item.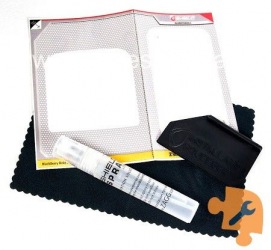 Pegatina película protectora en la pantalla y la carcasa
Pegatina película protectora sobre la no — pantalla ocupación agradable incluso para un especialista. ¿Qué podemos decir acerca de la serie completa de la película a la pantalla y la carcasa de BlackBerry! Atención, si usted necesita solamente una película en la pantalla, sin multar — cuerpo ver el correspondiente servicio.
Realizar en el lugar durante 15-25 minutos.
Get this service via
mail-in worldwide
. Easy as 1-2-3-4, and top-level quality are guaranteed.
Tecnología pegatinas película protectora en la pantalla y la carcasa
Película de adhesivo en la pantalla y la carcasa de BlackBerry — servicio pagado, pero si se siente la fuerza, puede pegarse y filmar a nosotros mismos, también le damos algunas recomendaciones:
Es aconsejable para pegar la cinta en un ambiente húmedo, se reducirá la cantidad de polvo en el aire y, en consecuencia, en la pantalla y que alberga su BlackBerry
Limpie cuidadosamente la pantalla del dispositivo y los elementos del caso: no deben seguir siendo las partículas de polvo, huellas dactilares u otros contaminantes
Limpie el paño sin pelusa pantalla y necesidad gabinete
Antes de aplicar un líquido especial de cine etiqueta con pegamento rociado necesario para superficies húmedas
Si hay un líquido especial, puede usar el spray para monitores LCD. No utilice productos a base de alcohol
Cuando la etiqueta mantener pequeños desplazamientos de los bordes de la pantalla, como en el otro caso, la película puede adherirse totalmente
Después de la pegatina para eliminar cualquier tarjeta de burbujas de aire (banca adecuado)
Si usted encuentra que una película después de la etiqueta aún quedan numerosas partículas de polvo, puede quitársela y lavarla con agua corriente
Se recomienda para pegar la película inmediatamente después de ser comprado
La película protectora en la pantalla y la carcasa BlackBerry
Las películas de protección de la pantalla y la carcasa, que siempre están disponibles para muchos modelos, y en algunos casos se encuentran disponibles en dos versiones:
Película protectora transparente convencional en la pantalla y la carcasa BlackBerry
Películas protectoras texturales y — modelado tales películas incluyen una película transparente en la pantalla y la oferta de vivienda "pintar" un patrón de belleza
Por otra parte, vale la pena señalar que la venta es una película protectora para BlackBerry de fabricantes conocidos como Guardz Cuerpo y Claro — Escudo tales películas tienen mejor calidad, mayor durabilidad y vida útil más larga, y también incluye un conjunto de herramientas adicionales para etiquetas .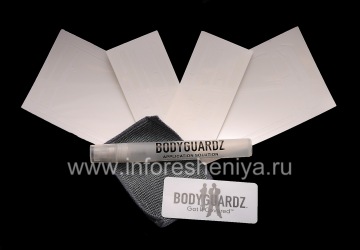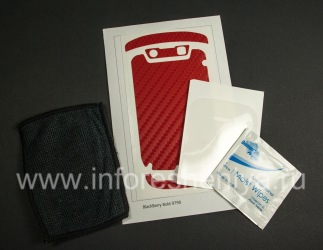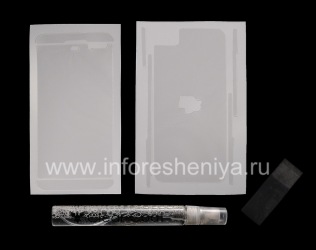 Pegue película protectora sobre los muchos modelos de vivienda pantalla y lata de BlackBerry, incluyendo:
BlackBerry Q10
BlackBerry Z10
BlackBerry 9900/9930 Bold
BlackBerry 9860 Torch
BlackBerry 9800/9810 Torch
BlackBerry 9700/9780 Bold
La lista completa de modelos y precios para pegatinas de servicio película protectora en la pantalla y la carcasa de BlackBerry véase más arriba usando el "precio del servicio para su modelo de BlackBerry».