استبدال اللوحة الأم
This page is translated by robot. You may
contact us
if you have any questions on this item.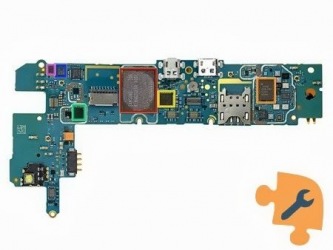 استبدال اللوحة الأم
اللوحة — "قلب" من بلاك بيري الخاص بك. في الحالات التي يكون من المستحيل إصلاح، فإنه يجب أن يتم استبداله. تؤدي في موقع ل20-50 دقيقة.
Get this service via
mail-in worldwide
. Easy as 1-2-3-4, and top-level quality are guaranteed.
استبدال اللوحة الأم عن طريق مركز خدمة معتمد بلاك بيري
هواتف بلاك بيري الذكية — الأجهزة ذات التقنية العالية، وليس في كل الحالات تصلح لإصلاح. إذا إصلاح غير ممكن، والحل هو استبدال اللوحة الأم. هذه هي الإصلاحات الأكثر تكلفة، ولكن مع هيئة المحفوظة جيدا من الشاشة أو أنها غير مبررة اقتصاديا.
اللوحة الأم (اللوحة الأم) بلاك بيري — عنصر التكامل، والتي رتبت وجنبا إلى جنب في المعالجات المركزية والرسومات والتشغيلية وذاكرة فلاش، فضلا عن وصلات للكاميرا، والموانئ، والهوائيات، وعناصر أخرى كثيرة. العديد من عناصر اللوحة الأم على بلاك بيري لا يمكن استبدالها، وجسديا مغلقة "مجمع" (هو راتنج البوليمرات الحرارية)، وصناديق معدنية: من جهة، لأنه يزيد أمن بلاك بيري من الهجمات "هاكر"، من ناحية أخرى — «يضع حدا" لالصيانة .
الأسباب الأكثر شيوعا أضرار لا رجعة فيها إلى اللوحة الأم هي:
تلف السائل
الضرر البدني الشديد
تأثير الكهرباء
الأضرار التي لحقت البطارية غير أصلي السلسلة الغذائية أو شاحن
لدينا اللوحات المتاحة ليست كل موديلات أجهزة بلاك بيري. تحقق مع المدير، إذا كنت مهتما في هذه الإصلاحات.
أمثلة من اللوحات الأم لبلاك بيري:
استبدال اللوحة الأم يمكن أن يكون على جميع موديلات أجهزة بلاك بيري، بما في ذلك:
بلاك بيري Passport
بلاك بيري Classic
بلاك بيري Q10، Q5
بلاك بيري Z10
بلاك بيري P'9981 بورش ديزاين
بلاك بيري 9800/9810 Torch
بلاك بيري 9790 Bold
بلاك بيري 9500/9530 العاصفة
قائمة كاملة من النماذج ومعدلات الاستبدال، انظر أعلاه مع مساعدة من العنصر السعر "الخدمة للحصول على النموذج الخاص بك بلاك بيري».