Russian keyboard BlackBerry 9790 Bold
This page is translated by robot. You may
contact us
if you have any questions on this item.
Russian keyboard BlackBerry 9790 Bold
Russian keyboard 9790 Bold provide a really elegant look and ease of typing your BlackBerry. By installing this keyboard:
you feel how easily and quickly you can type text in Russian
you will see how beautiful can be your BlackBerry
This keyboard — BlackBerry Authentic, manufactured by RIM BlackBerry. Quality assurance by the manufacturer BlackBerry.
Authentic Russian Keyboard for BlackBerry 9790 Bold — is the best choice:
Even illumination of letters in the dark
The ideal of tactile sensations keystrokes and precise fitting in the smartphone;
Original materials help to extend the life of the keyboard, it reduces wear and tear;
Letters to her contrasting, and accurately marked on the keys, which guarantees ease of typing and aesthetic appearance;
Labelling producer on the rear side of the keyboard.
See also:
When installing the keyboard can be difficult. Therefore, we recommend that you contact our specialists for work, more, visit Installation of Russian keyboard (not assembled).
Specifications and properties of the product
Price:

$38

$16

Product code:

9790KEYBRU-BK

This product fits the BlackBerry models: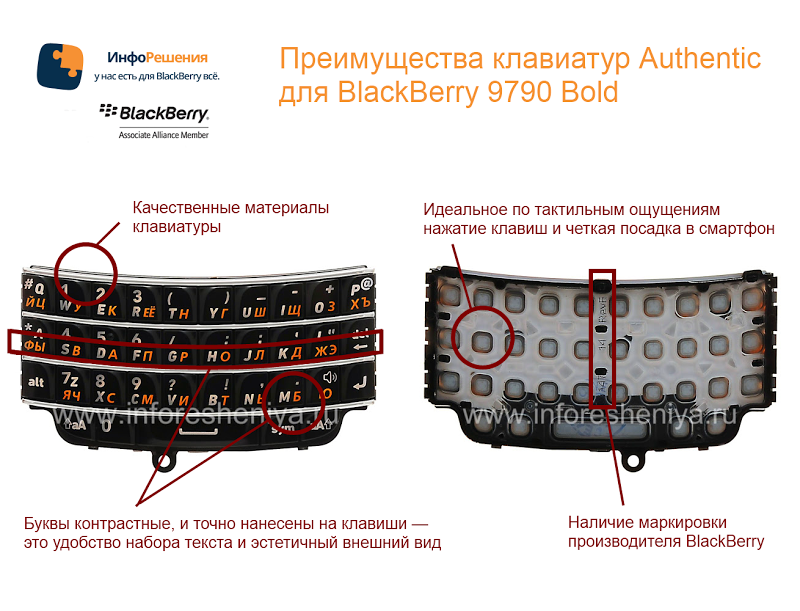 English Description:
Authentic BlackBerry QWERTY-QWERTY keypad (keyboard) — one of the great benefits of BlackBerry 9790 smartphones. Be sure to work with messaging applications and e-mail much more productive and comfortable way with physical keypad. Russian keypad for BlackBerry 9790 is essential thing to work with russian text, and is the best way to type in Russian.
Authentic Russian keypad for BlackBerry 9790 provides truly sophisticated look for your smartphone and ensures easy typing.
Try to install this keypad and:
You'll feel how easy and quick you can type Russian text
You'll see how beautiful your BlackBerry 9790 smartphone looks
In contrast to the keypad with engraved Russian letters, Authentic Russian keypad manufactured at the factory, the letters on it are contrast and emphasized with different color (yellow / orange) and highlighted in low-light environment.