Buy BlackBerry
This page is translated from Russian by robot. You may
contact us
if you have any questions on its content.
Welcome to BlackBerry.
BlackBerry — unique and technologically advanced smart phones to solve business issues and communications, reliable helper in life, excellent multimedia device.
About BlackBerry smartphones
BlackBerry (BlackBerry) — a reliable smart phone for business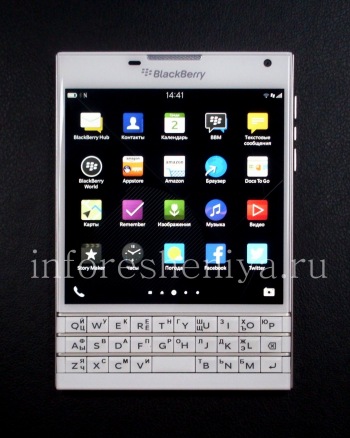 The first "Blackberry», BlackBerry, appeared in 1997, being developed by Canadian company Research In Motion, first as pagers, then cell phones and smartphones / communicators. BlackBerry main task now, as before, is an organization of corporate communication instantaneous, and it confirms all of the functionality of smartphones. This is the work with e-mail, browsing content on the Internet, the use of BlackBerry Messenger instant messaging, support for multiple services.
Blackberry Communicators different unique features, namely the organization of the transmission of encrypted data using the BlackBerry Enterprise Server dedicated server. This encrypted algorithms Triple DES and AES e-mail, instant messages and BBM.
BlackBerry — device companies at any level, from a private entrepreneur to the multinational corporation. The range of models presented smartphones on Android (BlackBerry DTEK50, Priv), on the BlackBerry 10-QNX (for example, Passport, Classic, Q10), and a conservative BlackBerry 7 OS (BlackBerry 9900 Bold, 9780 and other models). Choose exactly the BlackBerry, that suits you.
In 2013 the company moved to a new innovative platform BlackBerry 10, based on the QNX (BlackBerry OS 4-7 devices on the previous platform controlled by Java-machine), and in 2015 — on the Android platform. On the one hand, it led to software incompatibility of previous and new devices, and on the other it possible to create a modern solution for both business as well as for multimedia and games. Thus, currently on sale as the classic BlackBerry OS 4.7 and BlackBerry 10 and BlackBerry to Android.
Learn more about the benefits of BlackBerry for business .
BlackBerry — this multimedia phone for active people
Now BlackBerry is used not only businessmen, but also people who are interested and savvy smartphones. For Blackberry supports countless formats of music and video files, images and documents. Characteristics of today's smartphones are really impressive, they are able to cope with all tasks. Usability — at the highest level, and often people "tasted blackberries" have always been very happy to use these devices.
Release devices on Android — BlackBerry Priv and DTEK50 — allowed many users to easily go to the company's products. And this choice is not without reason, because the only Blackberry provides the best in the world of user data protection and complete control over security: neither the malware will not be able without the user's permission to include a microphone or camera, install the virus or send your files to the network.
BlackBerry — Shop is InfoResheniya
The company is engaged in InfoResheniya BlackBerry smartphones in 2009, and on the right is a leader not only in Russia but also abroad. InfoResheniya — a wide range of accessories, spare parts and BlackBerry smartphones, including also rare items that are not available for purchase in any other country in the world. We accompany each product real photographs and detailed descriptions — you always know what to buy. We are trusted.
Here you can buy not only the popular BlackBerry models, but also classical, have rarely encountered smartphones. For your convenience we divided smartphones into categories according to their appearance, technical capabilities and purpose, it will help you make a choice, even if you're not much good at the model number of the BlackBerry. We are also always ready to help you call —!
Unlike other BlackBerry stores, we do not sell "a pig in a poke", and offer the opportunity to familiarize themselves with the entire line of smartphones, try them in action — welcome to our office store .
Each BlackBerry smartphone, we can buy in several trim levels: Standard, Enhanced, and Premium Business. How do they differ, you will learn on the page you are interested in the device. In addition, smartphones already out of production, there is a possibility to buy a version Refurbished .
Categories of page Buy BlackBerry
Smartphone Business
↑
[Reliable tools to work]
Perfect BlackBerry Bold

The BlackBerry 9780 Bold smartphone combines functionality, a complete set for business and wide media capabilities. Very comfortable Russian keyboard and the longest battery life — 3-4 days of continuous operation! Support for data transfer technologies WiFi, 3G, Bluetooth and GPS, and an excellent camera.

| | | | | |
| --- | --- | --- | --- | --- |
| Shop for Smartphone BlackBerry 9780 Bold: | | | | from $80 |
Reliable BlackBerry. The choice of professionals.

Transfer your business under the control Bold Bold — smartphone, time-tested. The classic appearance of the smartphone, a large convenient screen, a complete set for effective communication: WiFi, GPS, 3G.

| | | | | |
| --- | --- | --- | --- | --- |
| Shop for Smartphone BlackBerry 9000 Bold: | | | | from $35 |
The new Bold. New opportunities!

Smartphone BlackBerry 9790 Bold is universal: it combines the performance and convenience of BlackBerry Bold and touchscreen BlackBerry Torch. Convenient QWERTY keyboard, BlackBerry OS 7.1, powerful 1 GHz processor and 768 MB of RAM, 8 GB of internal memory, plus microSD slot, 5.0 megapixel camera with flash and autofocus. And also full stuffing: motion sensor (accelerometer), digital compass (magnetometer), proximity sensor (Proximity Sensor), GPS, Wi-Fi, 3G, Bluetooth, support for NFC technology.

| | | | |
| --- | --- | --- | --- |
| Shop for Smartphone BlackBerry 9790 Bold: | | | from $149 |
Smartphone Casual
↑
[Multimedia smartphones for active people]
Smartphone Retro
↑
[Technically outdated, but practical and charming models]
Want to know about BlackBerry more?
Do you want more information, or to hear the views of the users? Visit resources: