Comprehensive BlackBerry accessories and parts store and service centre. International shipping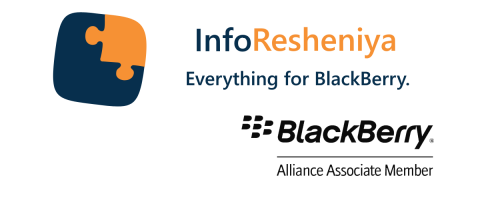 Welcome to InfoResheniya International BlackBerry Service/Repair Center and Store
InfoResheniya, ltd. — international company offering BlackBerry solutions for individuals and businesses. Based in Russia, Moscow, the company operates since 2009, and from 2012 is a partner of Research In Motion (BlackBerry, ltd.) as Associate Alliance Member.
Our mission is the widest offer for BlackBerry accessories, smartphones, the best services for repair, consult, and tune-up. We aim in attentiveness to customers and offering suitable solutions. We love BlackBerry.

We provide detailed and live photos and descriptions for all goods we have stock: authentic BlackBerry/ RIM accessories and parts (codes HDW-, ASY-, ACC-, MAT-, BAT-, etc.), brand accessories — Seidio, Incipio, Zagg, Case-Mate, BodyGuardz, PureGear, Smartphone Experts, OtterBox, Monaco, Targus, Belkin, Griffin, Verizon, ATT, SanDisk, Cellet, Wireless Xcessories (Wirex), T-Mobile, Nite Ize, Golla, Krusell, Body Glove, Bracketron, Arkon, iGrip, Yoobao, Speck, PowerMat, and others.

We do ship internationally. Secure payments.

Buy Smartphone · BlackBerry BIS · BlackBerry Accessories · BlackBerry Russian Keypad · Tune-Up BlackBerry · BlackBerry Repair/ Service · BlackBerry for Business

BlackBerry Repiar and Unlock services worldwide delivery
Even if you are far from our service center in Moscow, Russia, — you can get all the services on BlackBerry repair, unlock and set-up via mail-in worldwide delivery. Screen and touchscreen replacement, keypad and camera repair and replacement, connectors, soldering, Unlocking sim-card, BlackBerry Anti-Theft Protect and Factory Reset protection, recovering BlackBerry, and more! Quality services are guaranteed, and that is simple as 1-2-3-4!

If there is no BlackBerry service center you trust in your city — ship the device for repair and set-up to Inforesheniya professional service center! More information on Shipping Services page.