Twitter for BlackBerry, requiring no service BIS
This page is translated by robot. You may
contact us
if you have any questions on its content.
In Russia, still a lot of people are using smartphones BlackBerry without connecting services BlackBerry the BIS . Since the standard for Twitter BlackBerry works either via WiFi (but it is not available on all smartphones) or through the BIS, there is a need in the client program of Twitter, which does not require BlackBerry Internet Services.
See also:
Twitter for BlackBerry, operating without BIS service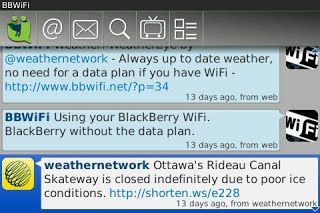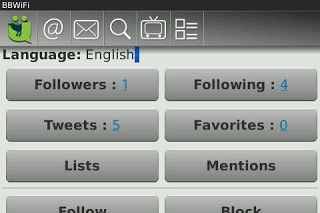 We suggest you pay attention to ÜberSocial program BlackBerry. It is free if you do not mind to see some advertisements, and $ 5 per year, if against. Download the program from the very BlackBerry: http://bb.ubersocial.com/bb/download.php, and with the computer http://bb.ubersocial.com/bb/ with the subsequent installation of a smartphone. The developer has provided the ability to install on all devices with OS 4.2.
UberSocial works like WiFi, GPRS and through BIS and does not require connection. However, there are other types of compounds in its settings.
Installing Twitter on a smartphone BlackBerry
UberSocial Twitter Installation can be performed as follows:
Download the archive with the program on your computer http://bb.ubersocial.com/bb/ link and unzip it.
Open the BlackBerry Desktop Manager and download the version of the application in accordance with your OS BlackBerry.
Set permissions for the program in the "Allow" in the settings of your BlackBerry (optional).
You must be correctly configured on the Internet BlackBerry.
When you start the program, specify your username and password on Twitter, if necessary, enter the GPRS connection type, and whether to use WiFi.
If you have any difficulties, please contact us. Our experts can also install many other programs .
This article applies to smartphones on BlackBerry OS 5-7:
BlackBerry 9981
BlackBerry 9930
BlackBerry 9900
BlackBerry 9860
BlackBerry 9850
BlackBerry 9810
BlackBerry 9800
BlackBerry 9790
BlackBerry 9780
BlackBerry 9720
BlackBerry 9700
BlackBerry 9670
BlackBerry 9650
BlackBerry 9630
BlackBerry 9550
BlackBerry 9530
BlackBerry 9520
BlackBerry 9500
BlackBerry 9380
BlackBerry 9370
BlackBerry 9360
BlackBerry 9350
BlackBerry 9330
BlackBerry 9320
BlackBerry 9315
BlackBerry 9310
BlackBerry 9300
BlackBerry 9220
BlackBerry 9105
BlackBerry 9100
BlackBerry 9000
BlackBerry 8900
BlackBerry 8830
BlackBerry 8820
BlackBerry 8800
BlackBerry 8707
BlackBerry 8703e
BlackBerry 8700
BlackBerry 8530
BlackBerry 8520
BlackBerry 8330
BlackBerry 8320
BlackBerry 8310
BlackBerry 8300
BlackBerry 8230
BlackBerry 8220
BlackBerry 8130
BlackBerry 8120
BlackBerry 8110
BlackBerry 8100