Unlocking BlackBerry Anti-Theft & Protect (anti-theft protection) for BlackBerry 10
This page is translated by robot. You may
contact us
if you have any questions on this item.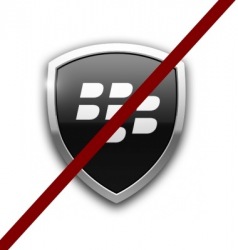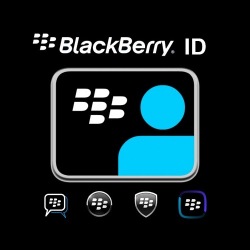 Unlocking BlackBerry Anti-Theft & Protect (anti-theft protection) for BlackBerry 10
Forgot password for BlackBerry ID on your device BlackBerry 10? — We will restore full access to it, even if the services of BlackBerry Protect (Blackberry Protector) and BlackBerry Anti-Theft (BlackBerry Anti-Theft Protection) were active.
The service is available for all smartphones on OS BlackBerry 10, including Passport, Classic, Z30 and others.
Get this service via
mail-in worldwide
. Easy as 1-2-3-4, and top-level quality are guaranteed.
Restoring a forgotten BlackBerry ID and removing BlackBerry Protect and theft protection on BlackBerry 10
Service unavailable.
If your smartphone is locked BlackBerry Anti-Theft & Protect, we suggest you remove your forgotten password BlackBerry ID and regain access to the device. After unlocking you can:
Use the device with the new BlackBerry ID
Use a smartphone without restrictions
What is BlackBerry ID, theft protection BlackBerry Protect and Anti-Theft
BlackBerry ID — unique identifier of the device owner BlackBerry. It combines under one login (e-mail address) and password all services BlackBerry, including the application store BlackBerry World, BBM messenger, and protection services BlackBerry Protect.
Although the login for your BlackBerry ID is the e-mail address, in general the passwords for BlackBerry ID and your e-mail address are different.
BlackBerry Protect — service, which was originally created to back up your data, such as contacts and settings of a smartphone, and remotely delete your personal information in case the smartphone is lost. The service appeared for devices on OS BlackBerry 5-7, and moved to BlackBerry 10 devices, where it received new features, including protection against theft BlackBerry Anti-Theft.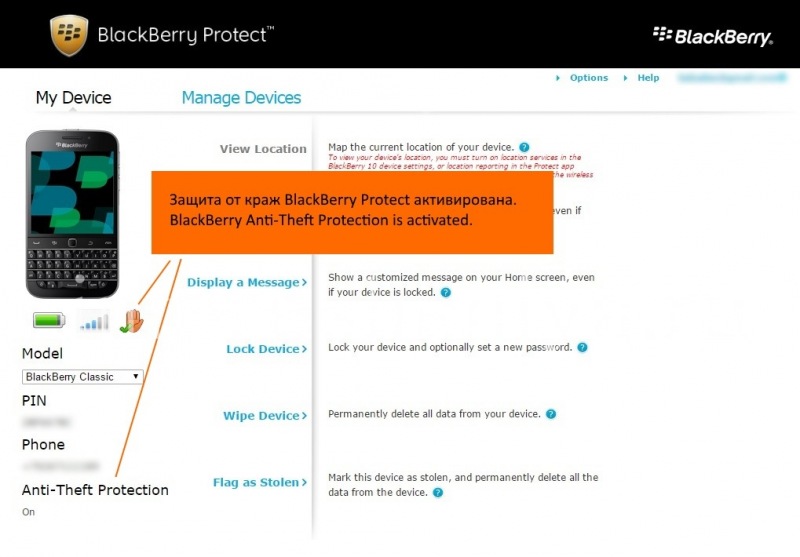 On this control page of BlackBerry Protect you can see that the anti-theft BlackBerry Anti-Theft is activated.
BlackBerry Anti-Theft, or anti-theft protection, appeared with the release of OS 10.3.2 update and is enabled by default. That is why devices on OS 10.3.2 and above cannot be "downgraded" to 10.3.1 or below.
On the one hand, Anti-Theft — is a useful function that will not allow a person who has access to your phone (for example, if you lose it or when it is stolen) not only read your personal data, but also use it somehow. On a locked device, you can not only make calls and send messages, but even get into the main menu of the phone. The attacker will receive this message when you turn on your smartphone: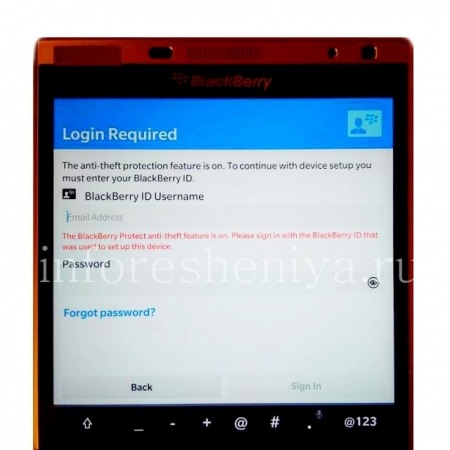 The message that in order to use the smartphone BlackBerry 10 you must enter BlackBerry ID, which was used with the smartphone earlier.
And since he does not know your BlackBerry ID and the corresponding password, the device cannot be used at all. Neither attempts to update the OS, nor "low-level" firmware help. And if you decrease to version BlackBerry OS below 10.3.2, the smartphone will not even turn on!
On the other hand, when an intruder doesn't want to get access to your smartphone, you're — yourself, this is a problem if you don't have the login and password BlackBerryV ID. This is indeed a frequent situation, — passwords, and even logins, users simply forget, and in some cases do not know (if they donated a smartphone or set it up in a store when buying).
In case you cannot use your smartphone due to activated BlackBerry Protect, this protection must be removed.
How to remove a forgotten password BlackBerry ID and remove BlackBerry Protect and Anti-Theft
If you have forgotten your password for the identifier BlackBerry ID, but remember the login e-mail address, and you have access to this mailbox, you can restore the forgotten password. If you do not remember the login BlackBerry ID or do not have access to the linked mailbox, you can only restore access to the device using our service.
Please note, the password BlackBerry ID and the password of the smartphone — are different. The smartphone's password blocks access to the device after a few minutes if it is not used, and restricts unauthorized access to your data. The device password, if you forgot it, cannot be restored, but if you clear the data on the smartphone (this happens if you enter the password incorrectly 10 times), the smartphone can be used again (all data will be lost, BlackBerry will be as new when first turned on ).
BlackBerry ID, Protect and BlackBerry Anti-Theft — is a unique service that can be unlocked in our InfResolutions-BlackBerry service center. Unlocking BlackBerry ID / Protect is available for BlackBerry 10 smartphones of all telecom operators, and regardless of the country of origin of the device:
BlackBerry Classic
BlackBerry Passport
BlackBerry P'9982 Porsche Design
BlackBerry P'9983 Porsche Design
BlackBerry Z30
BlackBerry Z10
BlackBerry Z3
BlackBerry Q10
BlackBerry Q5
BlackBerry Leap
And other devices on BlackBerry 10
Removing protection (unlocking) BlackBerry Protect "eternal" . This means that after unlocking BlackBerry Anti-Theft and Protect, you can enter a new identifier BlackBerry ID, flash your smartphone on any OS version, install any software.
Lead time — 1-2 days.
An example of use . You were presented with a BlackBerry Passport smartphone on OS 10.3.2 and you used it for a while. However, you didn't know that BlackBerry ID is already activated on it, and after updating the software, the device asks for a login and password for BlackBerry ID that you don't know, and it's impossible to recognize them. — Solution BlackBerry Protect unlock service!
An example of use . You have used the BlackBerry Z30 smartphone for a long time, and do not remember your password BlackBerry ID, and you no longer have access to email to restore it. Do not throw away your device — we will restore full access to it!
More information on removing BlackBerry Protect protection and restoring BlackBerry ID
To provide the service, you need to bring the device to our service center, remote unlocking of BlackBerry Protect & Anti-Theft is impossible. You can also send the device to the postal service , and after unlocking we will send it back to you.
If the device has personal data, it will be deleted. BlackBerry cares about the safety of users' confidential information (contacts, correspondence, notes, etc.), and it is impossible to recover them.
After removing Protect and Anti-Theft protection, you can enter a new identifier BlackBerry ID into your smartphone and use the device without restrictions. However, we strongly recommend that you remember this time, and even better keep your credentials, so that the same situation does not happen again!
BlackBerry Protect on BlackBerry OS devices 5-7
BlackBerry devices on OS 5-7 also have Protect service, but without Anti-Theft. This means that if you forget the password BlackBerry ID on a smartphone with OS 5-7, you risk only your personal data stored on it. If you clear the data or flash the smartphone, you can enter a new identifier BlackBerry ID and use the device again.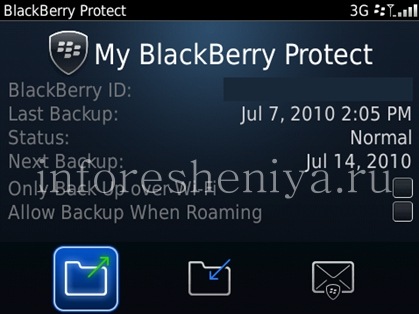 BlackBerry Protect on devices with 5-7 OS does not include the Anti-Theft service, and serves only to back up personal data.